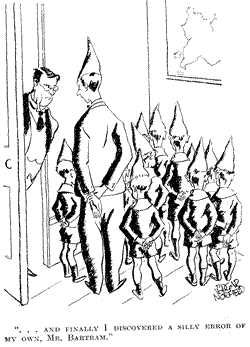 Don't be a dunce: save time online!
(1930s Punch cartoon)
Teaching resources
This page contains links to a range of online resources, from where to find sound and image files to examination boards. You'll find more specialised links on the language, literature and books pages.
General resources for English teachers
finding texts
online, see the
Literatures links
page.
Making the most of ICT in English
Moving image and media
Sound
Sounds can make a big difference to your presentations, whiteboard activities - and to students' work too. Thanks to
Esther Menon
for suggesting these:
Podcasting
Podcasting makes radio programmes available on the Internet so others - students, parents, anyone - can listen to them at any time on a computer, iPod or MP3 player.
Writing
Award-winning sites
These short-listed sites from the 2006 secondary English BETT Awards are well worth exploring:
Finding images online
Seach engines can quickly find images on a topic, though many may be irrelevant to your needs or unusable at the large sizes you may want to use with a class, so be prepared to spend some time searching, or see what
galleries and museums
have to offer.
art section
of the Literatures links page.
Forums
For general discussion forums about English teaching (not restricted to ICT and English) see:
Reference
Examination boards
Hardly the first stop for teaching resources - but the examination boards, like them or loathe them, determine much of what goes on in classrooms. Their websites are essential sources of information on what will be tested - and also contain much useful support material too, from past papers and reports to newsletters and information on support meetings.