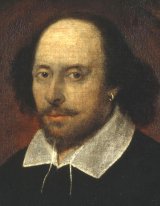 The
Chandos portrait
; read
about the Cobbe portrait
here
and in the
Guardian
.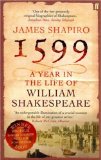 James Shapiro's
fascinating book
Shakespeare
'There's magic in the web of it' (Othello III.iv) - so here are some choice sites for Shakespeare surfers. Online editions are listed first - after all, 'The play's the thing.' Some of the text sites also contain valuable additional resources, so there is some overlap between these lists.
Finding the texts
As well as the
usual sources of online texts
, such as
Project Gutenberg
, there are a number of sites dedicated to Shakespeare:
Shakespeare websites
Books on Shakespeare
Jonathan Bate: The Genius of Shakespeare, Picador. This readable modern survey, including Shakespeare's life and a survey of responses to his work over time, should be in every library.
James Shapiro: 1599: A Year in the Life of William Shakespeare: fascinating account of the year the Globe was built, Shakespeare completed Henry V, Julius Caesar and As You Like It and drafted Hamlet.
Bill Bryson: Shakespeare: The World as a Stage: a likeable condensed biography
Frank Kermode: Shakespeare's Language, Penguin
Fintan O'Toole: Shakespeare is Hard, but so is Life - Granta. Short, provocative and fun to read.
Kiernan Ryan (ed): Shakespeare: Texts and Contexts, Palgrave Macmillan (Open University). Interesting essays on aspects of interpretation, with chapters on A Midsummer Night's Dream, Richard II, Macbeth, Antony and Cleopatra, Hamlet, Twelfth Night, Measure for Measure, King Lear and The Tempest.
Routledge Guides to Literature: this new series is similar in intent to the long established Casebook series but is probably more accessible to A Level students, with its signposted layout and extracts from key passages. The volume on Hamlet includes critical essays up to 2002 as well as a useful section on the play in performance on stage and on film.