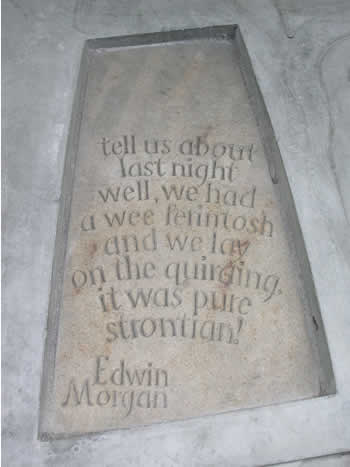 Edwin Morgan's words in the wall of the Scottish Parliament
Edwin Morgan (1920-2010)
Edwin Morgan, Scotland's national poet, died at the age of 90 on 19 August 2010. Carol Ann Duffy and others pay tribute to a 'generous, gentle genius' known for the variety and inventiveness of his work in The Guardian and the paper also carries an obituary by James Campbell. Further tributes can be found on the extensive Edwin Morgan site.
The photograph here shows an extract from Edwin Morgan's 'Canedolia - an off-concrete Scotch fantasia' can be found on the wall of the Scottish Parliament in Edinburgh. The full text is on the LTS Edwin Morgan pages, where there are another 26 of his poems. 'Ferintosh' is possibly a reference to the product of the Ferintosh whisky distillery, which was 'burnt down during the Jacobite disturbances in 1689, but became the first legal distillery in Scotland in 1690' (Wikipedia). This is less obscure when you learn that Robert Burns laments in his poem 'Scotch Drink' the outcry when the privilege of distilling free of duty was withdrawn from Ferintosh in 1785:
Thee, Ferintosh! O sadly lost!
Scotland lament frae coast to coast!
Now colic grips, an barkin hoast
May kill us a';
For loyal Forbes' charter'd boast
Is taen awa!
Read more about this on
The World Burns Club website
.
And 'strontian'? Is it a misprint (miscarving?) for the element 'Strontium'? Not quite: Strontian is a small village in Argyll; its name comes from Gaelic and means "point of the fairies". In the 1790s, French prisoners of war working in the lead mines to provide shot for the British war effort against France, found the first signs of a new element, named Strontium after the village. See Strontian: Undiscovered Scotland and Minerals of Scotland: Strontian to find out more. Not, of course, that this really explains the 'pure strontian' experience - and what about 'the quiraing' we lay on? More work needed!
Learn more about the quotations on the Canongate Wall on the Scottish Parliament site.
Edwin Morgan on the web
EdwinMorgan.com is dedicated to 'Scotland's greatest poet' and contains poems and lots of information, including the surprising Treasure Box.
Works of Edwin Morgan