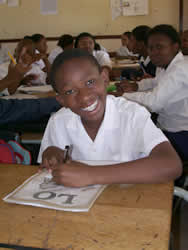 With MirandaNet in South Africa
Global links and resources
MirandaNet
MirandaNet supports 'web based communities of practice'. As well as encouraging research and professional development, it works to establish communities of 'e-citizens' around the world and provides support and advice for those overseas wanting to learn from UK teachers' experience of ICT in education. My work with the Free State Department of Education was part of an exciting MirandaNet project - that's where I met the cheery young man whose picture you can see here.
Read more about this project on the
e-Lapa section
of the MirandaNet site and in the
article that appeared in The Guardian
on 15 March 2005
More global links
Global Gateway: a website from the British Council - it includes a database of schools seeking partners.