'What the hammer?' A detail from Blake's 'Jerusalem'.
Another image appears
below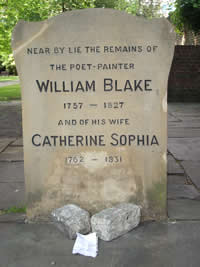 Grave of William and Catherine Blake
in
Bunhill Fields Burial Ground
, London:
see below for the messages.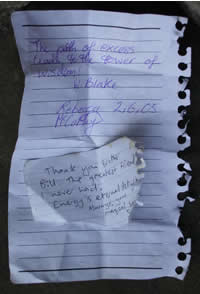 Still inspiring disciples: messages left
at Blake's grave, June 2005.
William Blake (1757-1827)
Blake is a particularly good poet to find on the Web, because so much of a true appreciation of his work involves looking at the artwork as well as the text. Some of these websites have wonderful examples of this, and it is worth following them and comparing your reactions to the text alone and to the text when seen with a picture.
Blake on the Web
You might find these sites useful for AS and A Level. For texts and additional reading, see
below
- and try out the interactive
Blake context page too
. See also the page on
Romanticism in English literature
.
Books on Blake
Blake in song
Blake would often sing his own songs, but the music (if it was ever written down) has not survived. However, there have been many settings of his work.

'Continually Building, Continually Decaying because of Love
& Jealousy': a detail from 'Jerusalem'