Cultural History, with
Byron
dressed up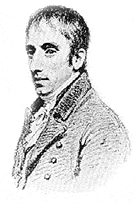 Wordsworth
in 1805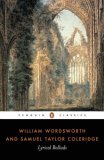 Lyrical Ballads (1798)
(read
Tintern Abbey
)
Romanticism in English literature
Romantic, when used about English literature and given a capital letter, refers to a period from around 1789 (the beginning of the French Revolution) to about 1832 (the death of Sir Walter Scott). An alternative starting date is the publication in 1798 of Wordsworth and Coleridge's Lyrical Ballads. Other major Romantic writers in English included the poets Byron, Blake, Keats, Shelley and Clare and the essayists Hazlitt and Leigh Hunt.
All good poetry is the spontaneous overflow of powerful feelings (Wordsworth: Preface to Lyrical Ballads, 1802 edition)
The Romantic Movement included all the arts and not just literature and it began first on the European mainland. The German writer Goethe is a key figure - inspired in part by Shakespeare - as are the composers Beethoven and Berlioz and artists such as J M W Turner and Caspar David Friedrich. Romanticism rejected tradition in favour of innovation and placed great emphasis on the poet's feelings, on responses to nature and on the power of the imagination - but of course it was more complicated than can be summed up in a few sentences, so make use of some of the books and websites listed here to find out more.
The Romantic Age
Broadcast
Key texts
Classicism is health, romanticism is disease.
Goethe, 1829
Websites
Finding texts online
See the websites listed above and the usual sources of online texts listed on the
literature links
page, in particular: