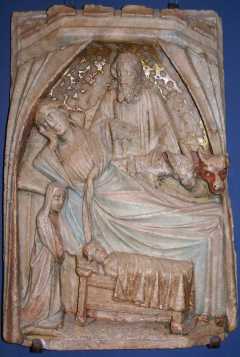 Medieval Nativity scene from
Musée National du Moyen Age, Paris
.
Carol Ann Duffy on the Christmas story
below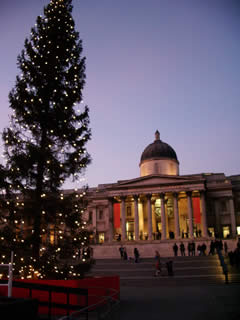 Christmas tree in Trafalgar Square, London
Happy Christmas!
What's your favourite Christmas reading? At one time, it seemed to be the job of the Head of English to select 'something modern' to accompany the traditional readings at the school Carol Service. T S Eliot's 'Journey of the Magi' was a common, if not necessarily popular, choice. In my classroom, I preferred Charles Causley's more accessible (and more amusing) Ballad of the Bread Man, with its arresting opening stanza:
Share your favourite Christmas reading on the Literary Connections Blog
Mary stood in the kitchen
Baking a loaf of bread.
An angel flew in the window
'We've a job for you,' he said.

To read the complete poem you'll need to buy a copy of, for example, Causley's Bring in the Holly
. There's much more about Charles Causley, including recordings of him reading some of his other poems in his distinctive Cornish accent, at the Poetry Archive. There's also an informative obituary by Susan Hill in The Guardian.
U A Fanthorpe's enjoyable Christmas sequence, including 'Cat in the Manger' and 'The Wicked Fairy', has a similar tone - like Causley, Fanthorpe sharply prefigures the crucifixion in the Wicked Fairy's words. You can find these poems in her Christmas Poems
and they also form the final sequence in Safe as Houses
. More sombre, but still affirmative, 'Christmas Presents' by U A Fanthorpe and R V Bailey appeared in The Guardian on 15 December 2007. Again, find out more about U A Fanthorpe on the Poetry Archive site.
John Betjeman's Christmas was another favourite; it must be an English trait to treat this central Christian festival in such a low key, ironic manner before hinting at belief:
And London shops on Christmas Eve
Are strung with silver bells and flowers
As hurrying clerks the City leave
To pigeon-haunted classic towers,
And marbled clouds go scudding by
The many-steepled London sky....

And is it true? and is it true?
The most tremendous tale of all...?
There is, of course, a long tradition of Christmas verse in English, including Christina Rossetti's 'Christmas Carol', which has become so well-known as, well, a Christmas carol, that it's easy to forget it's not traditional. Which in a way, it is:
In the bleak mid-winter
Frosty wind made moan,
Earth stood hard as iron,
Water like a stone;
Snow had fallen, snow on snow,
Snow on snow,
In the bleak mid-winter
Long ago.

Can a non-believer write Christmas carols?
In 2007,
Carol Anne Duffy
wrote a set of sixteen
Manchester Carols
, set to music by Sasha Johnson Manning.
Virtual Manchester
describes Carol Anne Duffy as 'a self-confessed atheist... drawn to the project because of the relevance the themes of the Christmas story still have for a modern audience, such as refugees, displacement, poverty and the joy of birth'. An interesting article in
The Independent
for 19 December 2007 gives more background, including the telling detail that Carol Ann Duffy was born on 23 December 1955 - so Carol's carols obviously just had to be written. 'The night I was born the nurses stood at the end of the ward singing Christmas carols, my mother told me – a fairy-tale image I've had most of my life,' Duffy says. Readers of her other work may be surprised at how traditional many of the carols are, but there are also Duffy's trademark modern references in, for example, the eighth carol, 'A Miracle':
Yes, it would be a miracle for sure
If everyone who fears the men with guns
Knew no more war;
the shot, the bombed, the injured innocents
were whole once more.
You can hear samples and buy the CD on the Manchester Carols website. The Woman's Hour programme on The Manchester Carols from December 2007, including extracts and an interview with Carol Ann Duffy, can still be heard on the BBC site.
A year later, Carol Ann Duffy contributed a more light-hearted poem,
Mrs Scrooge
, to the
Guardian Review
.
Perhaps you'd like to add a comment on your favourite Christmas literature on the Literary Connections Blog?