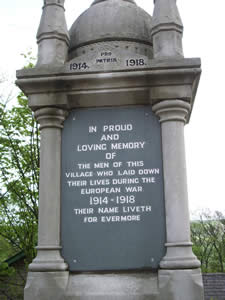 War memorial in Broadbottom near
Manchester, bearing words taken
from the
Ecclesiasticus
extract here


War memorial in
Charlesworth
We will remember them
Remembrance Day passages
These passages have become famous because they established themselves in Remembrance Day Services across Britain and the Commonwealth after the First World War. Students of literature - and others - might like to consider why these texts appealed so powerfully to the compilers of the ceremonies. See also the page on researching names on a war memorial and the First World War page.
We will remember them: Laurence Binyon
This line comes from the middle stanza of the poem 'For the Fallen', by Laurence Binyon, first published in
The Times
on September 21, 1914, a few weeks after the start of the war. When the poem was published, Binyon was in a reserved occupation (he was an expert on Oriental prints at the British Museum) and in his 40s, too old to serve in the armed forces. However, he volunteered for the Red Cross and spent much of his annual leave during the war working as a medical orderly in France. Find out more about Binyon and his poetry in John Greening's
Poets of the First World War
.
The verse recited at Remembrance Day services throughout the United Kingdom is:
They shall not grow old as we that are left grow old:
Age shall not weary them, nor the years condemn.
At the going down of the sun and in the morning
We will remember them.
Here's the whole poem; it makes an interesting comparison with the works of Owen and Sasoon with which students are more familiar:
For the Fallen

With proud thanksgiving, a mother for her children,
England mourns for her dead across the sea.
Flesh of her flesh they were, spirit of her spirit,
Fallen in the cause of the free.

Solemn the drums thrill: Death August and royal
Sings sorrow up into immortal spheres.
There is music in the midst of desolation
And a glory that shines upon our tears.

They went with songs to the battle, they were young,
Straight of limb, true of eye, steady and aglow.
They were staunch to the end against odds uncounted:
They fell with their faces to the foe.

They shall grow not old, as we that are left grow old:
Age shall not weary them, nor the years condemn.
At the going down of the sun and in the morning
We will remember them.

They mingle not with their laughing comrades again;
They sit no more at familiar tables of home;
They have no lot in our labour of the day-time;
They sleep beyond England's foam.

But where our desires are and our hopes profound,
Felt as well-spring that is hidden from sight,
To the innermost heart of their own land they are known
As the stars are known to the Night;

As the stars that shall be bright when we are dust,
Moving in marches upon the heavenly plain;
As the stars that are starry in the time of our darkness,
To the end, to the end, they remain.

Laurence Binyon (1869-1943)
Their name liveth for evermore: Ecclesiasticus 44:1-15
Ecclesiasticus is a book from the Apocrypha, not normally accepted as Scripture. For this reason you will not find it in most Bibles. That is one reason for providing it here. The words 'their name liveth for evermore' were chosen by
Rudyard Kipling
for inscription on war memorials when he was a member of the Commonwealth War Graves Commission.
Interestingly, I found this passage in a volume called The Bible Designed to be Read as Literature, bought by my father in St Helens in 1937. The introduction is by the same Laurence Binyon whose poem is quoted above. He concludes, in words that seem almost as poignant now as his earlier poem, knowing as we do that the world was soon to plunge into another war:
Come what may - and let us look beyond the insane and brutal elements in mankind erupted to the surface in this present moment of an endless history - it is certain that to forgo the opportunity, accessible to all, of frequenting this surpassing literature of the Bible, with its grandeur and abundance - a world of mind and spirit and passionate drama, far transcending the horizons of the little private world we each of us inhabit - is as if one should resolve of set choice to be poor in the midst of plenty and to dwell in a mean street.
Here is the passage from which Kipling took the words 'their name liveth for evermore'. The first line, 'Let us now praise famous men' has also been appropriated by various writers, most famously perhaps by James Agee for his work with the photographer Walker Evans about sharecroppers in Alabama.
Let us now praise famous men,
And our fathers that begat us.
The Lord hath wrought great glory by them
Through his great power from the beginning.
Such as did bear rule in their kingdoms,
Men renowned for their power,
Giving counsel by their understanding,
And declaring prophecies:
Leaders of the people by their counsels,
and by their knowledge of learning meet for the people,
Wise and eloquent are their instructions:
Such as found out musical tunes,
And recited verses in writing:
Rich men furnished with ability,
Living peaceably in their habitations:
All these were honoured in their generations,
And were the glory of their times.
There be of them, that have left a name behind them,
That their praises might be reported.
And some there be, which have no memorial;
Who are perished, as though they had never been;
And are become as though they had never been born;
And their children after them.
But these were merciful men,
Whose righteousness hath not been forgotten.
With their seed shall continually remain a good inheritance,
And their children are within the covenant.
Their seed standeth fast,
And their children for their sakes.
Their seed shall remain for ever,
And their glory shall not be blotted out.
Their bodies are buried in peace;
But their name liveth for evermore.
The people will tell of their wisdom,
And the congregation will shew forth their praise.